I created a webmix using Symbaloo for my students to practice their
keyboarding and mouse skills
. They absoutely love the Super Hyper Spider Typer game, Cup Stacking, and Bees and Honey.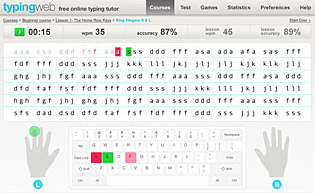 I also use
Typing Web
for keyboarding practice. This is a free tool where you can (the teacher), create up to 25 student accounts. I created generic user accounts and created tickets for this application. The students have to sign in and start practicing their home row skills. Once they complete a level, the application focuses on different fingers and letter keystrokes. Much to my surprise, my first grade students handled the challenge well!
I would highly recommend trying this application with your students. You can visit my Symbaloo to see other keyboarding and mouse skill resources.